If you enjoyed last week's event, buckle up – there's more to come. (And we're looking for partners/sponsors, so do get in touch!)
Last week's launch event was fabulous – 50 people came to have a drink, mingle and listen to lightning talks packed with knowledge and inspiration.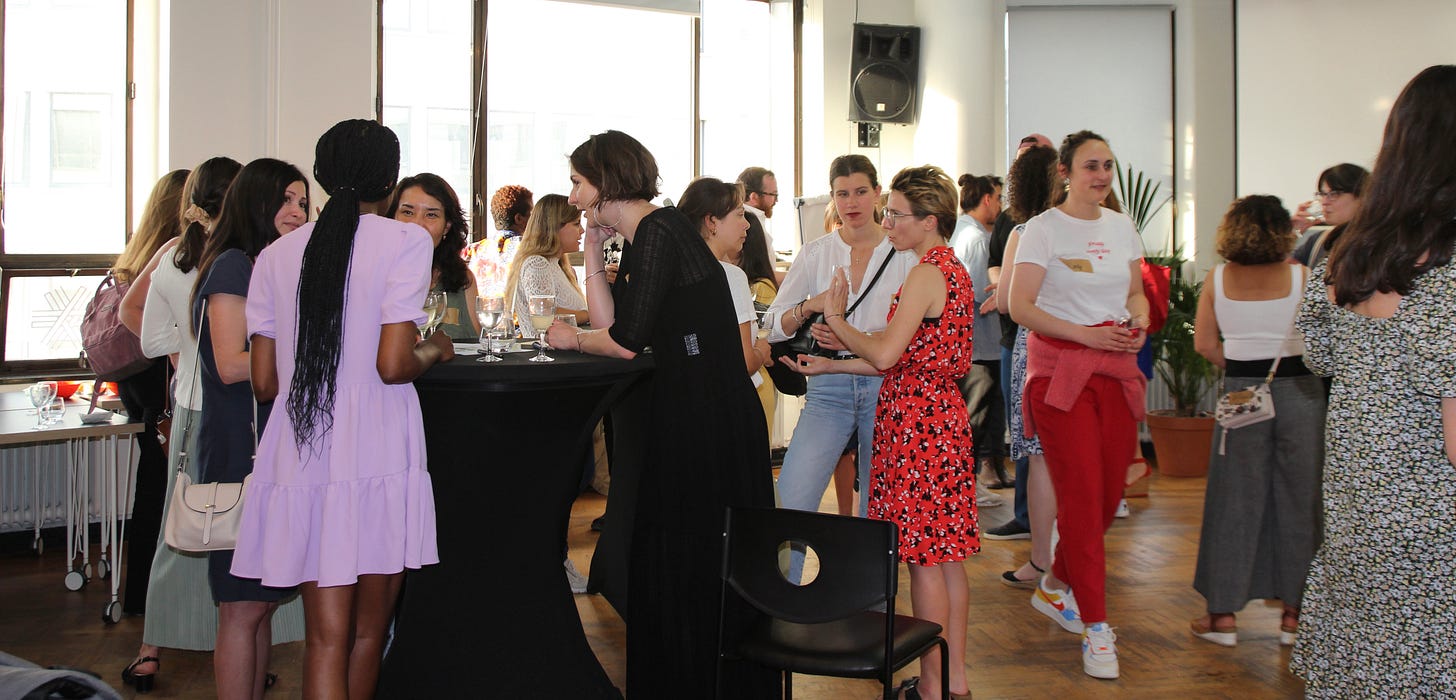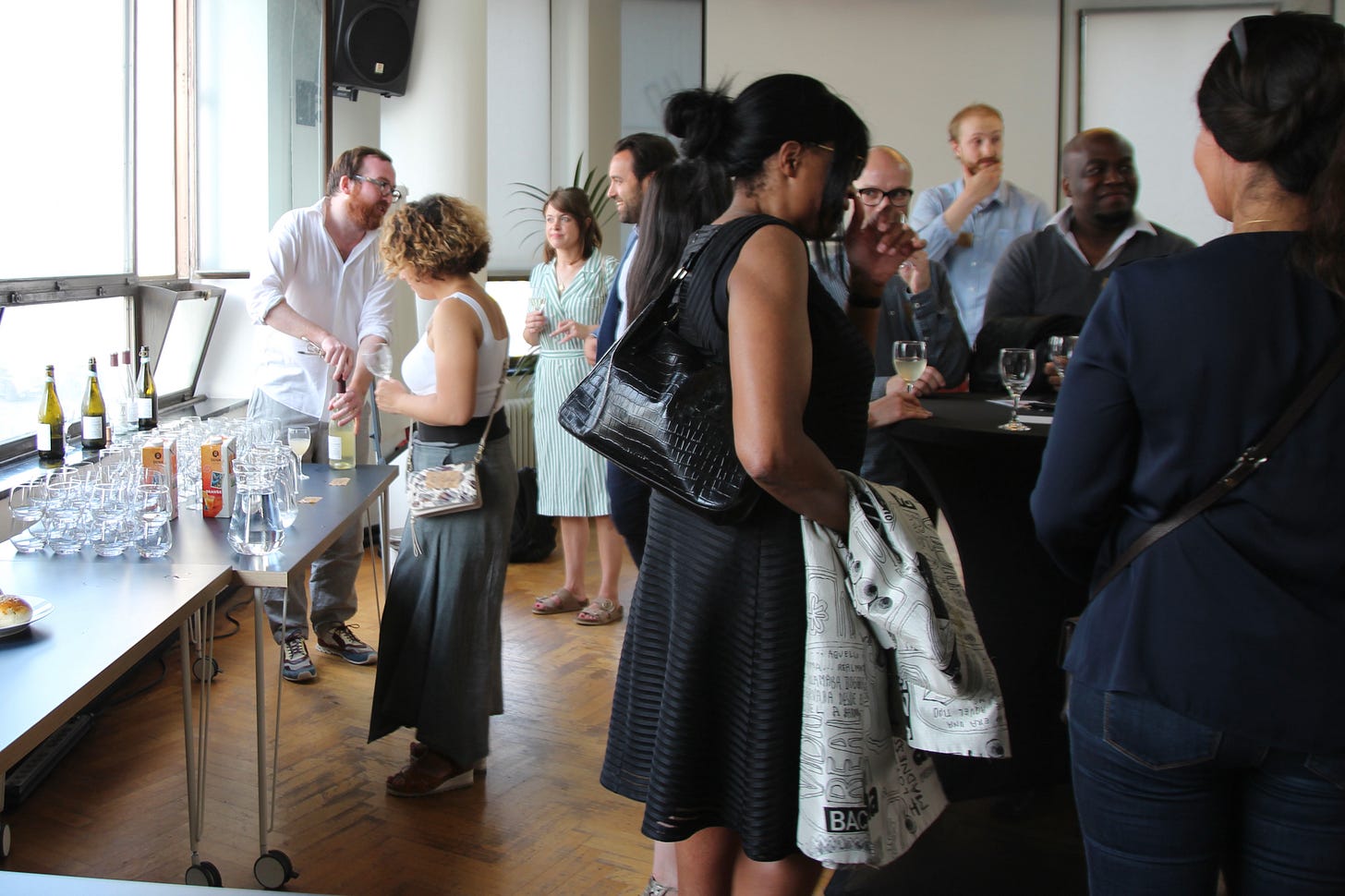 What's in today's newsletter
EDITORIAL: Insights from our launch event
READS: Recommended books and articles
NETWORK: People to watch (and support!)
LEARN: Facilitation technique
YOU: What do you have energy for?
TELL A FRIEND: Sponsorship opportunities
1. EDITORIAL
I had the honour of welcoming four incredible speakers at the Peer Mentorship Space launch event on 18 May 2022.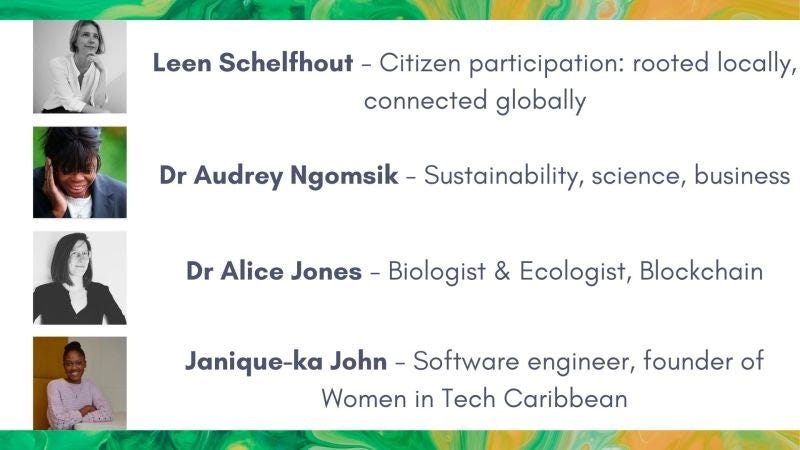 Rooted locally, connected globally
Leen Scheelfhout shared with us her journey from being an active citizen, to organising climate action with Extinction Rebellion, to creating a blockchain based collective of 150 climate initiatives.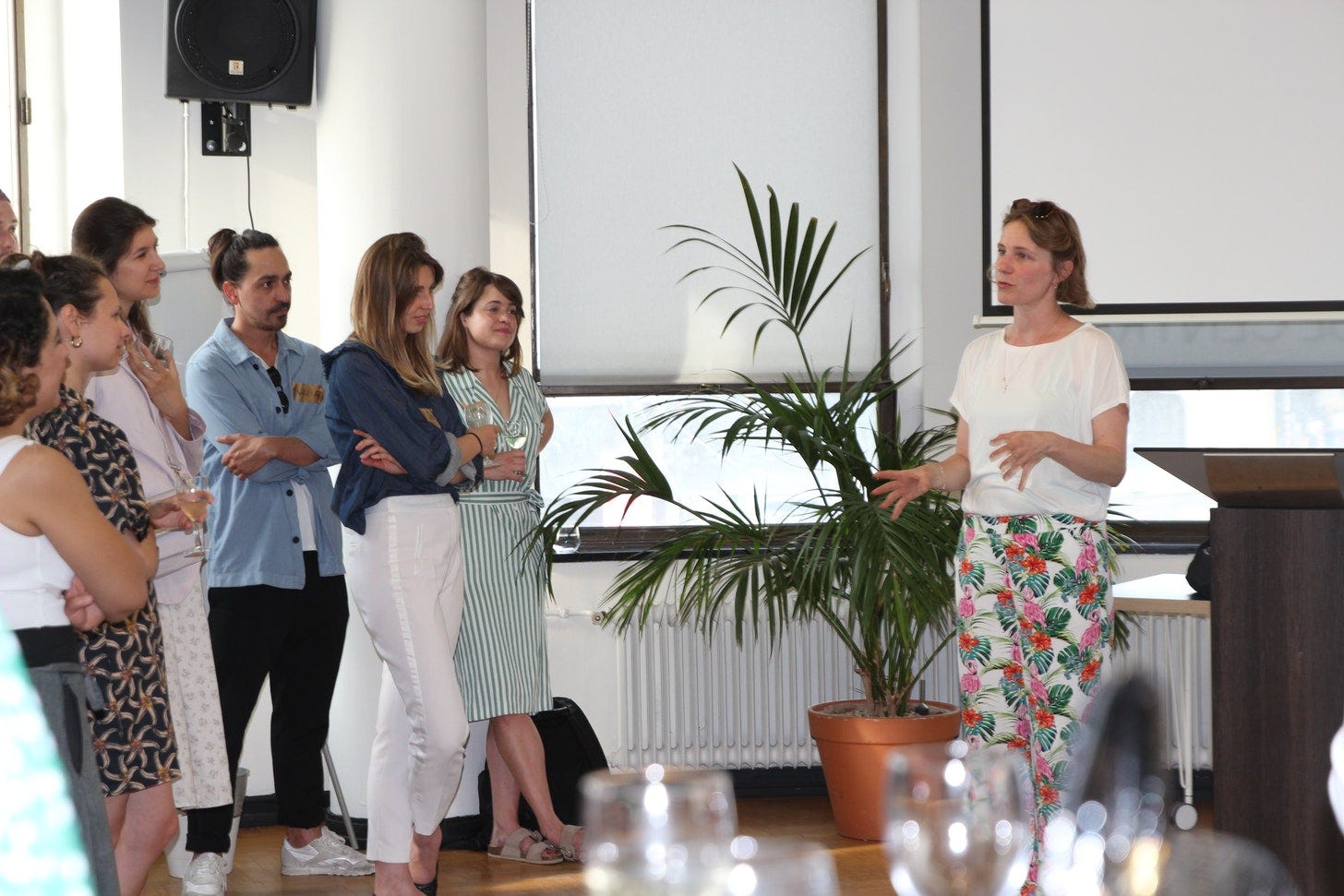 On her journey, Leen realised that bureaucracy is one of the biggest hurdles for climate action: when she created an urban garden with her neighbours, the local city council confiscated it, because it did not conform with "the rules". This is why the All for Climate DAO – a decentralised autonomous organisation – helps citizens start or join a local collective by minimising an initiative's admin burden and instead allowing them to focus on turning their ideas into action.
If you want to hear more, check out this podcast episode, in which Leen and I have a deeper conversation about these topics.
People, planet and profit
Dr Audrey-Flore Ngomsik shared some insights from her company Trianon Scientific Communication, in particular the importance of interdisciplinarity and intersectionality.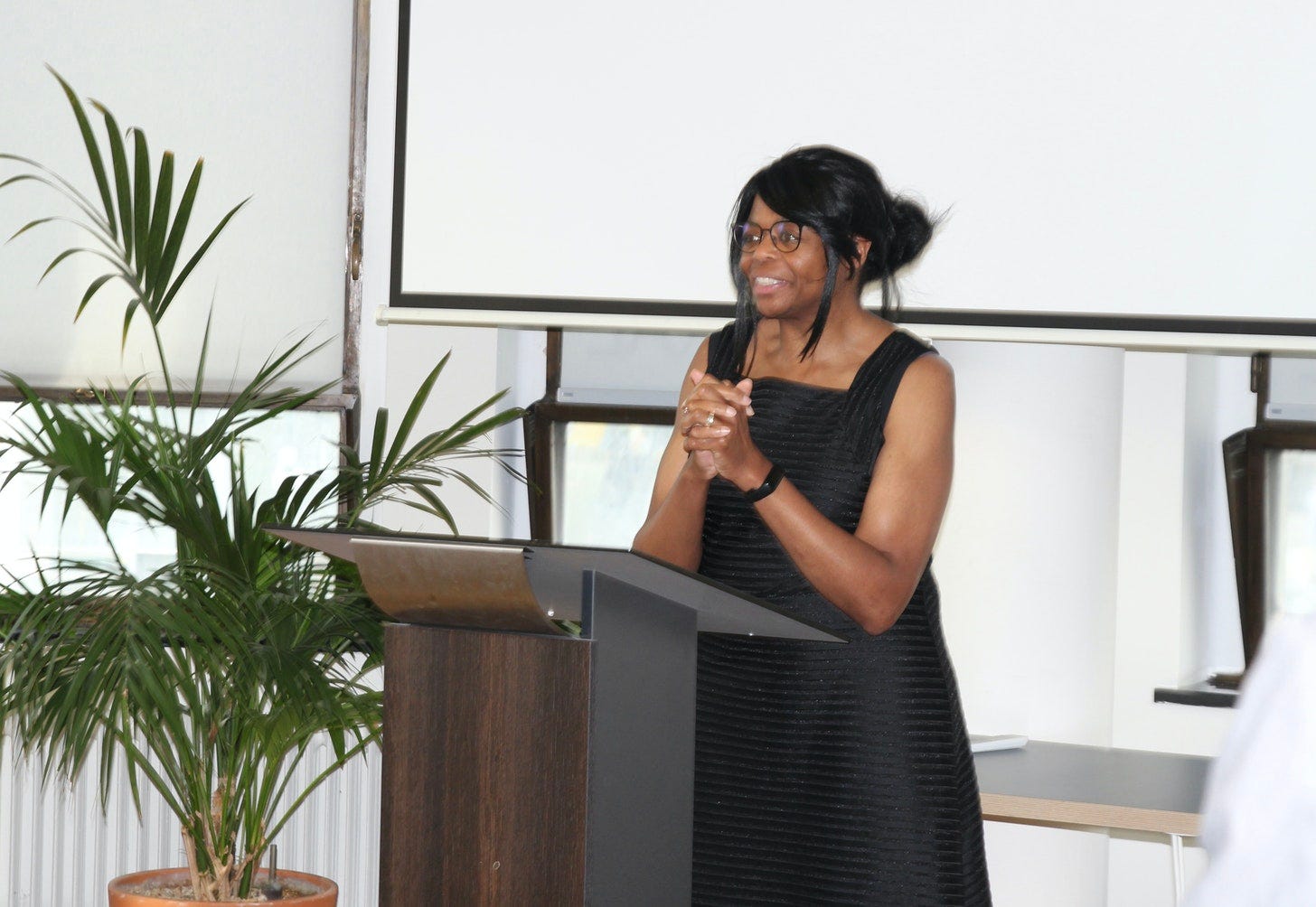 Consider a simple glass of water. To understand the problem that this glass of water is:
You need a chemist to ascertain it's H2O – a molecule containing one oxygen and two hydrogen atoms.
You need a physicist to understand it's in its liquid form.
You need a biologist to identify whether it contains any microbial pollution.
Only with all of these diversity of perspectives are you able to understand the glass of water, i.e make smart decisions, i.e decide to drink the water.
Businesses often treat sustainability in silos. But for a successful corporate sustainability strategy, the social aspects of a business (people), the environmental aspects (planet) and economic considerations (profit) must go hand in hand. Diverse teams, especially at the levels where decisions are made, play a key role in long term sustainable development. In short: you need to work outside the box to innovate, within the box to engrain new ways of working (governance, DEI) and without the box for more transparency and to avoid greenwashing.
Biology, ecology and blockchain
Dr. Alice Jones told us about Bloomeria – a young Belgian start-up that addresses the challenges of biodiversity degradation and the need for climate change adaptation. To fund nature restoration projects by citizens and environmental organisations, Bloomeria's platform uses non-fungible tokens (NFTs). In this way, it providees tokenised carbon to the carbon offset economy.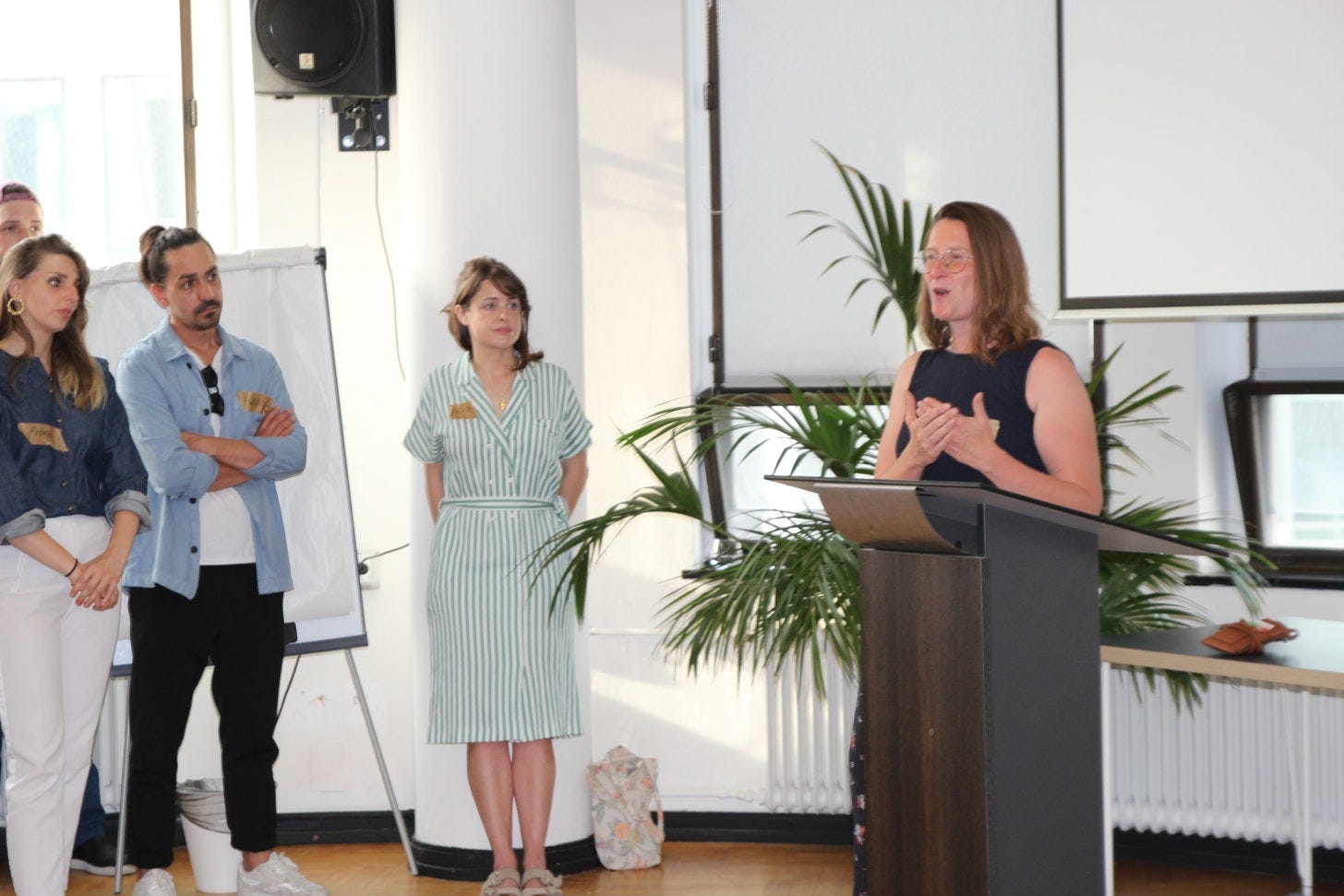 The goal is to increase citizen participation interdisciplinarity, efficiency and transparency in the ecological transition. Many solutions are emerging, but the different actors – scientific, political, legal – struggle to communicate with each other, and with local communities. Sustainability issues and solutions are complex, which is why community building and listening to constructive criticism from experts in other fields is crucial. If you are interested to support – the Bloomeria team is always looking for helpers.
At this point, you may ask: Why is this event called "Peer Mentorship Space", if it's all about sustainability? The next talk completes the full circle and brings us back to where we started: how do we create impact, and how do we make sure that we achieve what we set out to do?
The power of community
Janique-ka John shared some powerful wisdom about human trust and connection with us. Coming from a small island, Janique-ka's community would colloquially talk about "pull string" – a term for knowing someone in the right place, who would help you get a task or procedure done more quickly. She later realised: this is not a small-island dynamic, but more of a general human characteristic: We tend to trust the word of people in our lives more than that of a stranger. It's the reason why you might trust a recommendation of a close friend, more readily than that of an anonymous stranger.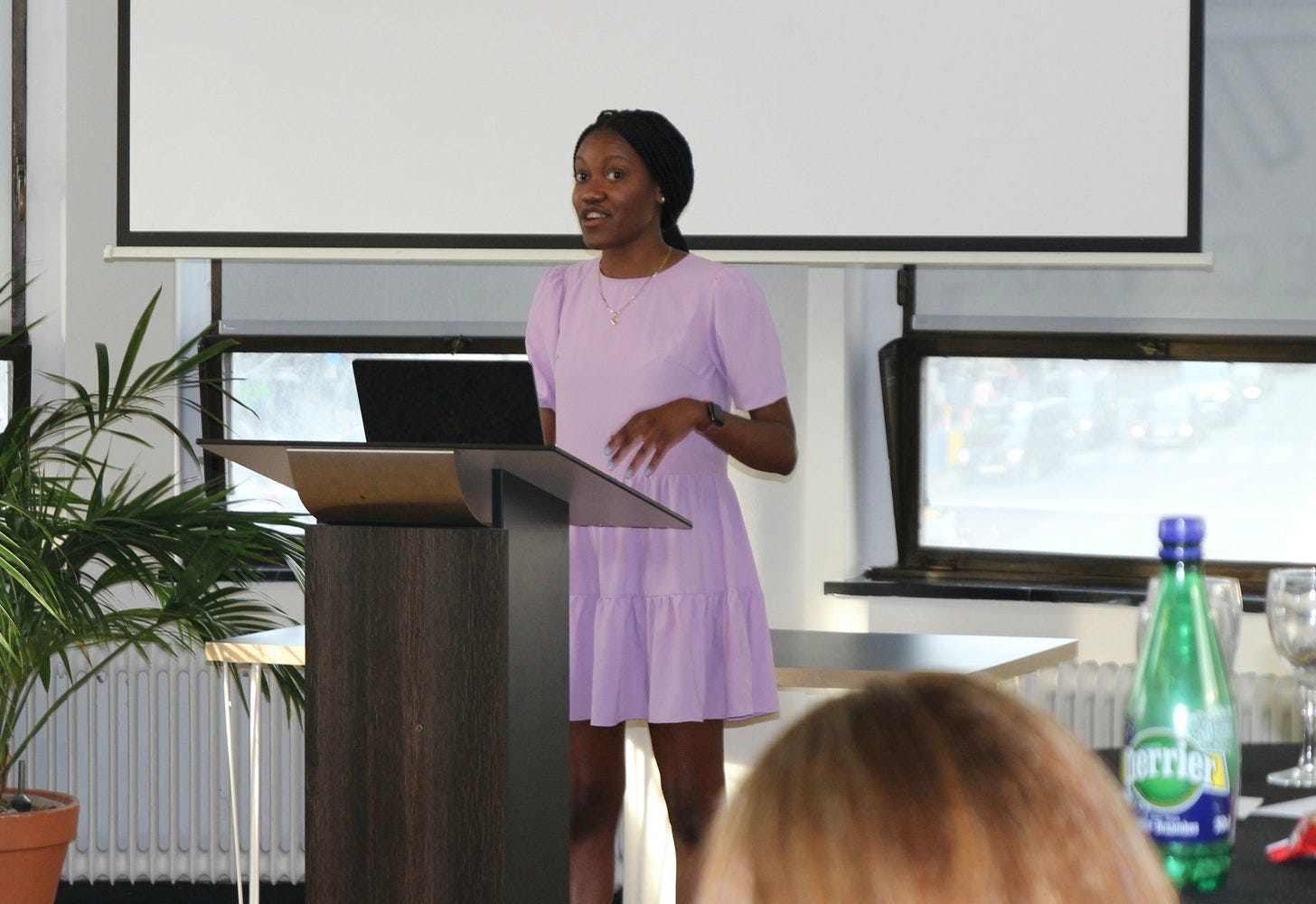 That is why the professional mentor you are looking for might actually be already in your life right now, and next to you in this room as a peer. Community doesn't stop at professional support.
Many of you reading this can reflect right now on where a family member, friend or friend of a friend, "pulled that string" that was crucial to you being where you are today. Janique-ka went a step further and challenged us all – yes, including you, dear reader – to connect also with people outside our field, for an unexpected surprise on how you may be able to mentor them or vice versa. Hold on to this moment, because some powerful cross-pollination is about to take place.
2. Books to read (and recommend)
The Black Opportunity by Tino Chibebe – I said it once, I say it again: Read this book and buy one for your friend. Like, do it now. You won't regret it – as it is full of entertaining and inspiring personal stories from the author and dozens of interviewees. After this, you know all you need to know about venture capital and the opportunity it has to transform our communities, economies and planet. And about how important that "pull string" is that Janique-ka spoke about.
Seriously though: Read this book and buy one for a friend, too.
Embedded, by Shelby Parks. Following last month's recommendation for The Ministry for the Future, here's another futuristic post-apocalyptic science-fiction dystopian novel – that gets you thinking about the secret ingredients for a utopia. Embedded is set in 2038, and as the climate crisis ran its course, humanity has been forced underground. I won't tell you more – suffice to say that this story aims to empower society out of learned helplessness and instill hope and action in humanity.
If you work in policy, recommend this book to your colleagues. Let me know what they say!
And of course follow Sevim Aktas' EU Energy Transition Brief.
3. People to watch (and support!)
Saida Sheikh Ahmed is a machine learning engineer and data scientist, and co-founder of the School of AI Brussels – a learning community for anyone interested in Artificial Intelligence. She teaches data science, machine learning and deep learning: on her YouTube channel you can learn the basics of data, and follow the latest developments in the field.
Regens Unite is a 2 day conference which took place for the first time in Brussels on 19-20 May. It connected people from different bubbles – activists, web3 engineers, NGOs, bankers, community builders, policymakers – with each other, with one goal: Moving from sustaining an unsustainable status quo to creating regenerative communities and economies. It was great fun and I can't wait for the next edition.
4. Facilitation techniques
At Regens, I learned a few cool things about facilitation and mediation techniques. One group exercise in particular I found very inspiring. In it, we explored three questions:
WHAT: The first prompt invites everyone to look at a group of people outside of their own "bubble" – like political decision makers, activists, scientists, hackers or crypto people. The goal is to identify some of the stereotypes (or fears or uncertainties) that you may hold about this "bubble".
First, each person contemplates this question individually during a 1 minute meditation.
Then, in groups of 3, each person shares their personal thoughts for 1 minute (or however much time you have) and afterwards listens to the others without judging or reacting.
SO WHAT: After this first step, each person reflects on the question: So, what does that say about me? The fact that I have a certain fear, assumption or stereotype, what does it say about me? Most of these assumptions happen subconsciously anyway, so it's a fascinating question to think about.
Each person shares in turn, the others listen.
WHAT NEXT: Reflect on what could be a next step or intention, what actions it would involve, and so on. Share with the others.
Afterwards people share in a bigger group (for example in groups of 6) if they had any aha-moments.
5. What do you have energy for?
(Or: How you can get involved, if you want to)
At the end of the Regens conference, one question stuck with me. At a time when I felt drained, I was asked this very simple question: In all of the tiredness and frustration that we experience daily – What do you have energy for?
What do you want to make time for? What are the things that make you feel good and empowered and that you want to repeat doing? Maybe the answer is "nothing" right now, and that's ok too. Activism and impact work can be exhausting, but it doesn't have to be.
If you're reading this, chances are you may be interested in doing good things and creating positive impact in the world. If you are interested in volunteering for a non profit in Brussels – for example All for climate, Bloomeria or this Peer Mentorship Space – don't hesitate to get in touch with them or with me.
If you want to explore new topics or give a talk on something you're interested in – it's easier than you might think – here are some tips I learned once.
And if you don't know where to start, just email me, or message me on LinkedIn.
6. Next event + Tell a friend: Sponsorship opportunities
The feedback from all of you who have been at the launch event was so positive that I can't wait to organise the next one. I am currently speaking to community members, potential co-organisers and other partners. If you have proposals on who we should invite, which topics we should dive into or which projects we should highlight – please don't hesitate to get in touch with me. And a big thanks to those who have shared already.
Most importantly, there are still sponsorship opportunities to support our mission of connecting people in tech, policy and sustainability with each other. It is of paramount importance to us to ensure that participation in our events is accessible and free for everyone. Check out the different sponsorship opportunities.